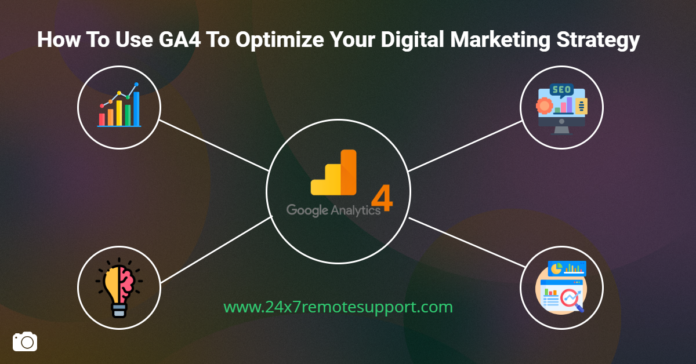 Google Analytics 4 (GA4)- What's New
Google Analytics has undergone many feature upgrades since its inception. It actively tracks the website's analytical reports (traffic reports, data usage, backlinks created, conversations, etc.). In addition, it keeps on updating its version to compete with the fast-tracking proficiency of the websites. Google Analytics 4, or GA4, is the 4th generation iteration that is automatically updated for the mobile and desktop versions. Further, you get upgraded features of a secure website with privacy controls and behavioral and conversion modeling.
Table of Contents
Why is GA4 popular for tracking website's performance?
Universal Analytics (UA) is the previous version of Google Analytics 4 (GA4 version), so it was lacking in tracking a few websites' performances. This is a reason why GA4 updates have been introduced through a loophole. Consequently, the overall website's performance was enhanced. It includes a user-friendly platform, smartly designed web and app tracking tools, higher engagement metrics tracking, etc.
Therefore, the website's overall tracking and improvements became more clear and precise. This has led many businesses to adopt the most upgraded version of GA4. Here are a few of the benefits of using a Google Analytics 4 upgrade:
GA4 offers free Bigquery connections, which was a paid version in the previous one. It helps in quick modification along with enrich, blend, and warehouse needs.

The complex conversions get easier by using these upgrades.

You get easy accessibility with both website and mobile app integrations.

Easy cross-domain tracking is possible faster than GA3 upgrades.

These upgrades broaden the creative analytic funnel with advanced features.
The website will continue to profit from its upgraded tracking systems. The GA4 modifications have significantly altered the web analytics routes and the tracking layout.
How can you easily Set Up Google Analytics 4 for Your Website?
To process the precise and accurate website tracking guarantee with your optimized website. You need to follow the step-by-step guide for the easy setup of Google Analytics 4:
Property creation for Google Analytics 4:

To create a new property, first need to sign in with your existing or a new Google Analytics account. Now, next follow the on-screen prompts >set-up assistance> "Create Property." >Assign a unique name(website/app)> Set the reporting time zone and currency> Get the Measurement ID for tracking.

Installation of GA4 Tracking Code:

You can simply follow the steps to go ahead with the installation process of

GA4 Tracking Code

. Now for this go to the Google tag manager> Locate and copy the Measurement ID > Install manually/ website builder.

Configure Event Tracking:

For in-depth insights tracking, you need to follow the steps for event tracking configurations. To proceed with this> Go to the key actions or events> click on specific links> proceed with form submissions/video plays> follow the onscreen instructions.

Proceed to set up Data Streams:

For this, you need to log in to the Admin section >Property column> >Data Streams>create a new stream.

Testing and Verifying Tracking:

Now, the next turn is to track and analyze the real-time report, and enable debug mode for the website or app for proper insights tracking.

GA4 Settings and Reporting Customization:

By customizing GA4 settings you can experience higher-tracking accuracy for your website. It includes, the dashboard keymetrics tracking. This way, you can make personalized adjustments to streamline the website's real-time monitoring tools.

Enable Enhanced Measurement:

You can also enable Enhanced Measurement in GA4. Follow the steps> "Admin" > "Data Streams."> "Enhanced Measurement."
How GA4 work for the website's Digital Marketing strategies?
GA4 is a smart tool that helps in the digital marketing strategy to enhance and track the website's performance. But, here we first need to understand our business strategy to focus on the target customers across all digital marketing online space, social media, and any other relevant category for promotions.
In addition, what should be the effective strategy to attract customers like blogs, appealing images, and high-resolution video and audio categories that represent your services. Here, are some of the important parameters that immediately help in GA4 works for the website's Digital Marketing:
Engagement Rate:

The engagement rate of users interacting with your website is one parameter that GA4 can readily track. To track the success rates of your website's marketing campaigns with the intended audience, this includes account visits, page views, and many other metrics.

Conversion Rate:

This metric easily detects and stores the data for the customer's actions, like purchases made via the account sign-up, etc. So, by tracking the conversion rate, a digital marketer can proceed with further marketing strategies.

Cost per Acquisition (CPA):

CPA is tracked to check for successful conversions, and this further helps in improving the marketing campaigns. In addition, its short formula is the total cost of a campaign divided by the number of successful conversions.

Bounce Rate:

It has to do with the percentage of people who visit websites and then leave without looking around.

Referral Traffic:

This metric tracks visitors from a referral source.

Click-Through Rate (CTR):

This metric keeps track of how many users viewed an advertisement or link and how many clicked on it.
Summary
To add a final touch, here we have concluded the complete setting process of GA4 for the website's performance enhancements. In addition, it is beneficial in implementing great digital marketing strategies for a digital marketer. Hopefully, this blog can give you a precise and clear idea to improve your online space.