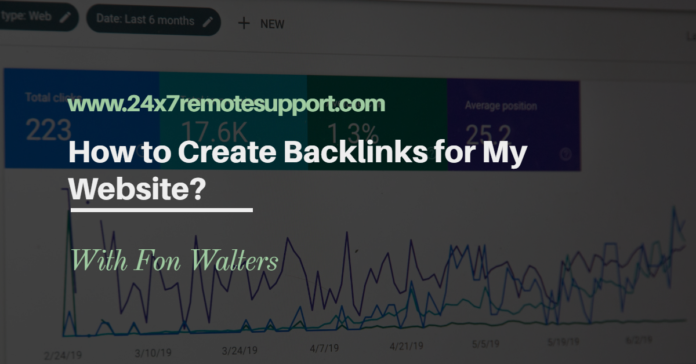 Welcome to the world of backlinks – a secret weapon in the realm of search engine optimization (SEO)! If you're looking to boost your website's visibility and attract more organic traffic, then you've come to the right place. In this blog post, we'll dive into the art of creating backlinks for your website absolutely free! Yes, that's right – no need to break the bank or hire expensive SEO agencies. We'll walk you through some proven strategies and techniques for creating backlinks.  So buckle up and get ready to unlock the true potential of your website!
Table of Contents
What are Backlinks?
Backlinks are the backbone for any website that needs a good ranking on the search engine platforms. This is followed by the valuable, creative, and high-quality link juice that automatically scrolls to the search engines. In addition, these links are SEO-friendly and highly recommended for increasing the domain authority of the websites.

Types of Backlinks
A website needs organic backlinks that can link directly or through the referral source. This not only prepares your website to be successfully indexed by Google and other search engine platforms. But also to get higher authority and domain value as well. So, here we shall be discussing the different types of backlinks and how they are beneficial for your website:
No-Follow Links: These are the backlinks that are created to bring heavy traffic to your website. However, you do not want these followed up by other search engines and do not pass the page ranks. So, here is the short version: nofollowed hyperlinks are represented by the rel="nofollow" tag.
Do-Follow Links: Do-follow links, also known as "link juice," are those links that have authority among search engines. These links are responsible for increasing the domain authority of the website faster. So, you can verify its presence by analyzing its HTML code. Similarly, the technical representation of the do-follow link is through the rel="dofollow" tag.
Authority Links: These are the quality do-follow links that are redirected from higher-ranking websites to your website. So, this is quite effective in increasing the SEO ranking for the websites.
Contextual Links: These links are clickable links within the contents of the website.
Apart from this, you must consistently post the relevant content, i.e., blog posts, article posts, guest posts, etc., to link back to your website within the author bio section. This not only helps in creating quality and engaging backlinks to drive maximum traffic to your website but also increases visibility.
How can I Create Free Backlinks for My Website?
Are you looking to boost your website's visibility and increase organic traffic? One effective strategy is to get backlinks for your website. Backlinks are links from other websites that direct users to your site, signaling its credibility and popularity. They are a crucial component of search engine optimization (SEO) and can significantly impact your website's ranking on search engine results pages.
So how can you get backlinks for your website without spending a dime? Here are some free methods:
1. Create high-quality content: Producing valuable, informative, and engaging content is key to attracting natural backlinks from other websites. When you consistently offer insightful articles, videos, or infographics, other webmasters may find them useful and link back to your site.
2. Guest blogging: Reach out to relevant blogs in your industry and offer to write guest posts. In return for providing quality content, you can include a link or two back to your own website within the article.
3. Social media engagement: Actively participate in social media platforms by sharing interesting content related to your niche. This can attract attention from influencers or bloggers who might be interested in linking back to your site.
4. Participate in online communities: Join forums, discussion boards, and Q&A sites where you can contribute valuable insights related to topics within your expertise. Include a linkback when appropriate but avoid spamming or self-promotion.
5. Build relationships with influencers: Engage with influential figures in your industry through comments on their blog posts or social media profiles. Over time, they may recognize the value of collaborating with you and provide opportunities for backlinking.
What is Benefits of Creations?
Backlink creation plays a significant role in the website's organic and paid webspace visibility. So, do-follow and no-follow backlinks can give a higher rating to your website's SEO promotions. Now here we shall be discussing the great benefits of backlink creation for your websites:
Improves SERP ranking: The search engine results pages (SERPs) repeatedly scroll the relevant and do-follow-up backlinks. This ultimately drives the links visibility on their top ranking over multiple search engines.
Helps in lead generation: Once your website is visible to the target audience, it attracts potential leads to your webpages through many sources. It includes social media, organic and paid promotions, and many others.
Enhances organic traffic to your website: The relevant posts and created backlinks that have appealing audio, video themes, contents, images, and many other relevancies attract potential leads. This ultimately boosts organic traffic to your website.
Connects to referral traffic: It also targets the referral backlinks diverted to your websites through the search engines crawlers.
Overall, we can't deny the large sum of backlink creation benefits when moving ahead with website development and SEO promotion to get a good authority score at the numerous search engines.
Conclusion
Creating high-quality backlinks takes time and effort, but the results are well worth it in terms of improving search engine rankings and generating targeted visitors to your website. You can efficiently produce organic backlinks without spending a dollar by using a range of techniques like as guest blogging, influencer outreach, social media advertising, and so on. Furthermore, by building quality backlinks, the website's SERP engine standards in terms of domain authority and ranking profile improve. This guidance would be simple to grasp for the website's ranking enhancement techniques.